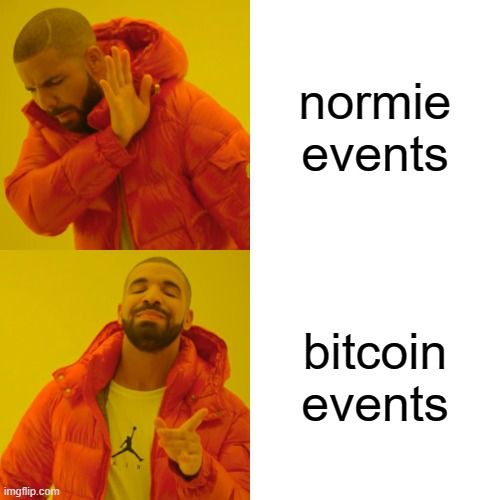 We all know why you are here so lets dive into it. A sandwich walks into a bar. The bartender says, "Sorry, we don't serve food here."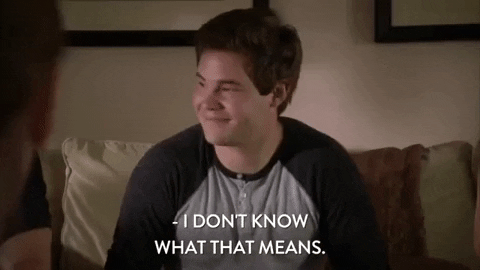 Oh, you are here for bitcoin stuff? Well then, how many Bitcoiners does it take to change a lightbulb? None. If you fix the money, the lightbulb will change itself.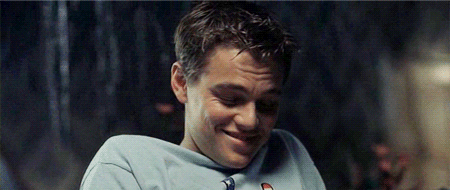 On to the real stuff, lets look at some upcoming pleb events right here in Austin. Heads up, March will be especially special since the first ever SATSx will be happening. Be sure to come out and help change the world one sat at a time. Scroll to the bottom for the weekly bitcoin events.
Thursday, March 3rd - Austin Bitcoin Club Pleb Symposium @ The Bitcoin Commons of Unchained Capital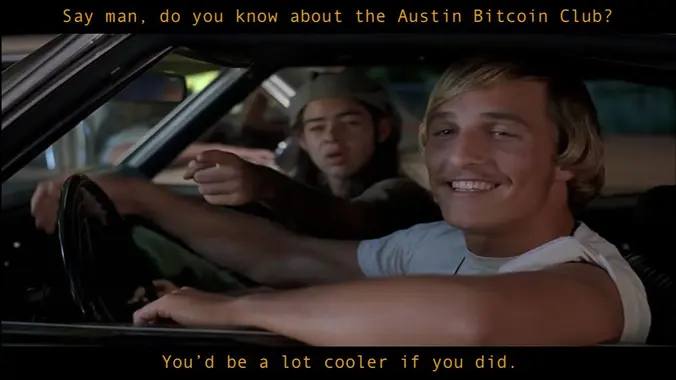 The Austin Bitcoin Club will be a once monthly gathering of Bitcoiners from all walks of life. We are building a space for fostering connections, idea development, and most importantly creating a strong sense of community from which we may all draw support.
· 6:30 PM
· Register Here - Free to attend, complimentary food & beer available.
---
Saturday & Sunday, March 12th and 13th - #SATSx Hackathon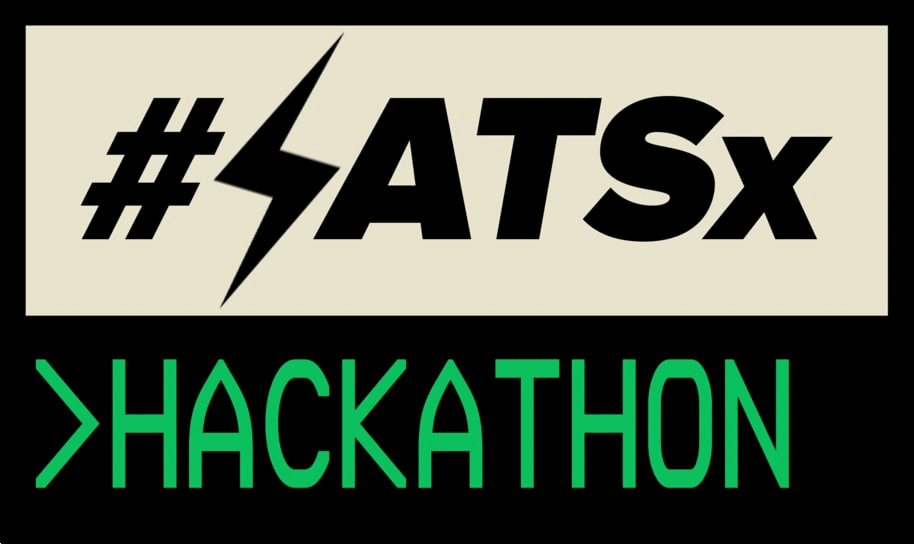 We want everyone who is a Bitcoiner to come to this event and maybe hack something together with bitcoin and the lightning network.

So if you know about ECDSA, or Schnorr signatures, or bip32 derivation paths, or anything that's cool like that, why don't you come to the SATSxSW Hackathon and build something that's going to change the world?
· Saturday - 10:00 AM - 10:00 PM
  · Sunday - 10:00 AM - 5:00 PM
· Learn More Here - Free to participate and attend
Saturday, March 12th - #BitcoinBlockParty at Barton Springs TBD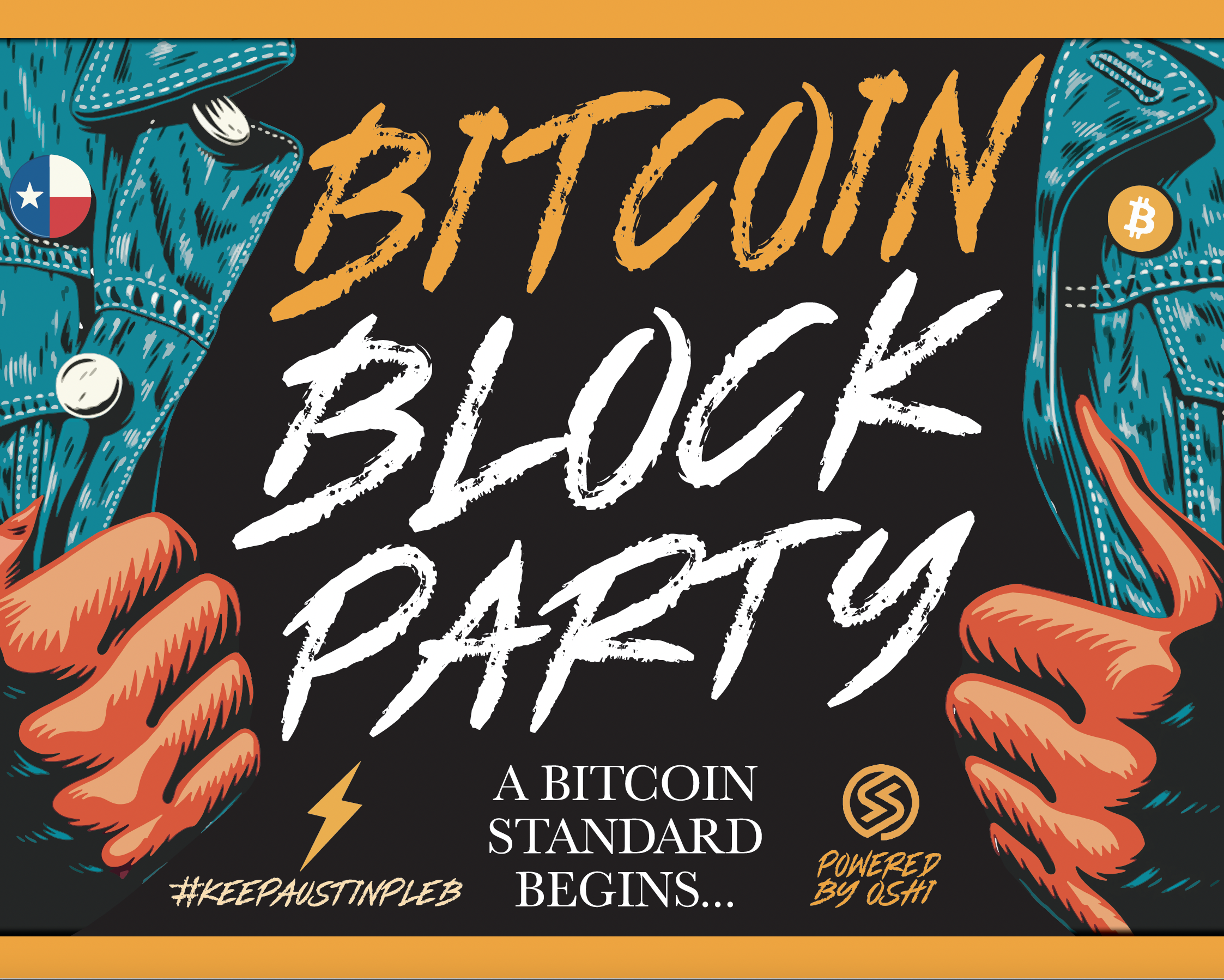 ---
Tuesday, March 15th - Bitcoiner Breakfast @ The Meteor on S Congress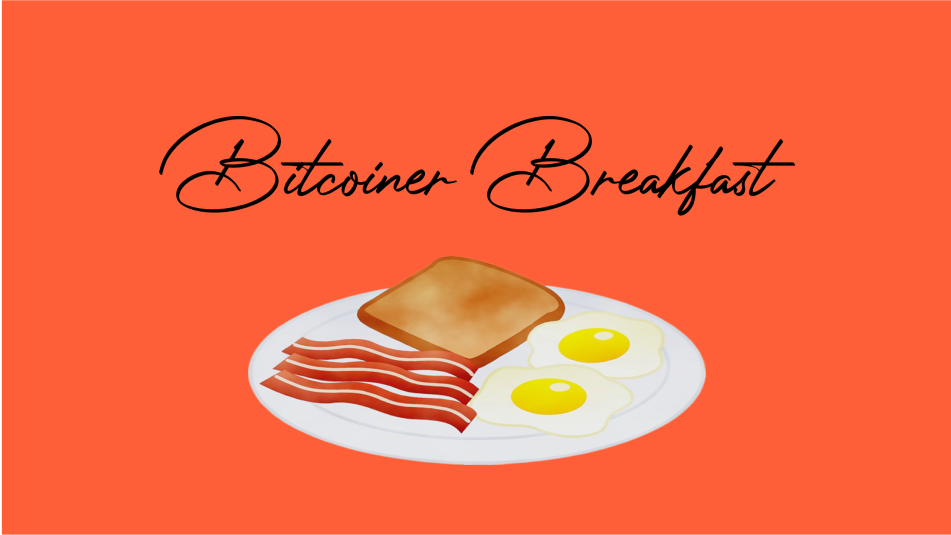 Come hang out, talk #bitcoin, eat breakfast tacos, and drink some coffee.
· 8:00 AM
· Follow for more info - Free to attend
---
Thursday, March 17th - Austin Bit Devs Socratic Seminar #25 @ the Bitcoin Commons of Unchained Capital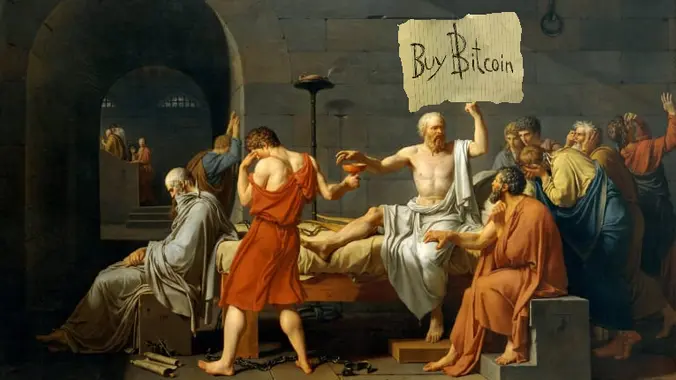 Topic we will explore:
* How Bitcoin works
* How Lightning Network and other second-layer systems work
* How and why to run a full node
* Building atop Bitcoin

Topics we won't explore:
* Investing in Bitcoin
* "Blockchain" as general purpose technology
* Altcoins and ICOs
· 7:00 PM - 9:00 PM
· Register Here - Free to attend
· After party @ Coopers BBQ-  $35 for food & (more importantly) Mariachi band
---
Every Monday - Oshi Evangelist Call Online @ 7:30pm

Want to learn how to earn bitcoin by fostering a bitcoin economy in your community? We'll explain how Oshi works, how to onboard businesses, and answer any questions in-between. Join passionate bitcoiners from all over the world as we discuss ways to turn your town or city into the next Bitcoin Beach.
· Register here - Free to attend
---
Every Tuesday - Bitcoiner Breakfast & Dinner @ The Meteor on S Congress
· 8:00 AM and 5:30 PM
· No registration needed - Free to attend
---
Every Wednesday - Open Bitcoin Q&A Chat Online @ 7pm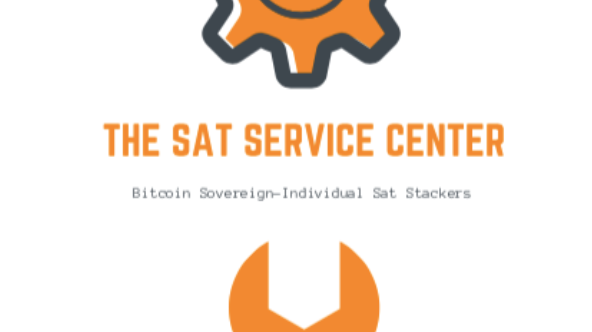 New to Bitcoin? Now is the best time to learn about Bitcoin and meet local Bitcoiners based in Texas & around the globe! Whether you're brand new to Bitcoin and just want to learn, a miner looking to expand, or you're a Bitcoin programmer seeking reviews, every skill level is welcomed.
· Register here - Free to attend
---
Every Sunday - Beer & Bitcoin @ Casino Southside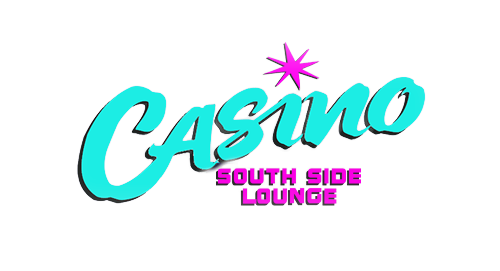 Last thing before you go, our very own ThrillerX has been doing Beer Bitcoin meetups at Casino Southside at 4pm every weekend. Join the #KeepAustinPleb Telegram for more info.
· Free to attend
· Guaranteed good time or your money back