Today I share my thoughts about the Adobe acquisition of Figma. This has been a part of my journey since my baptism earlier this year. This yearning to be in the light during the darkest of times.
Figma changed the SaaS game when they made design accessible to everyone. It's true! With options like Canva and Figma, great design has never been easier to create. What's also true is that the open design movement they started has paid off immensely. Figma made collaboration a first-class product. Becoming more antifragile and encouraging open collaboration with everyone in their community is what creating is all about. Adobe has had many competitors, most notably Apple, but Figma won the hearts and minds of creatives looking for a lower barrier to entry.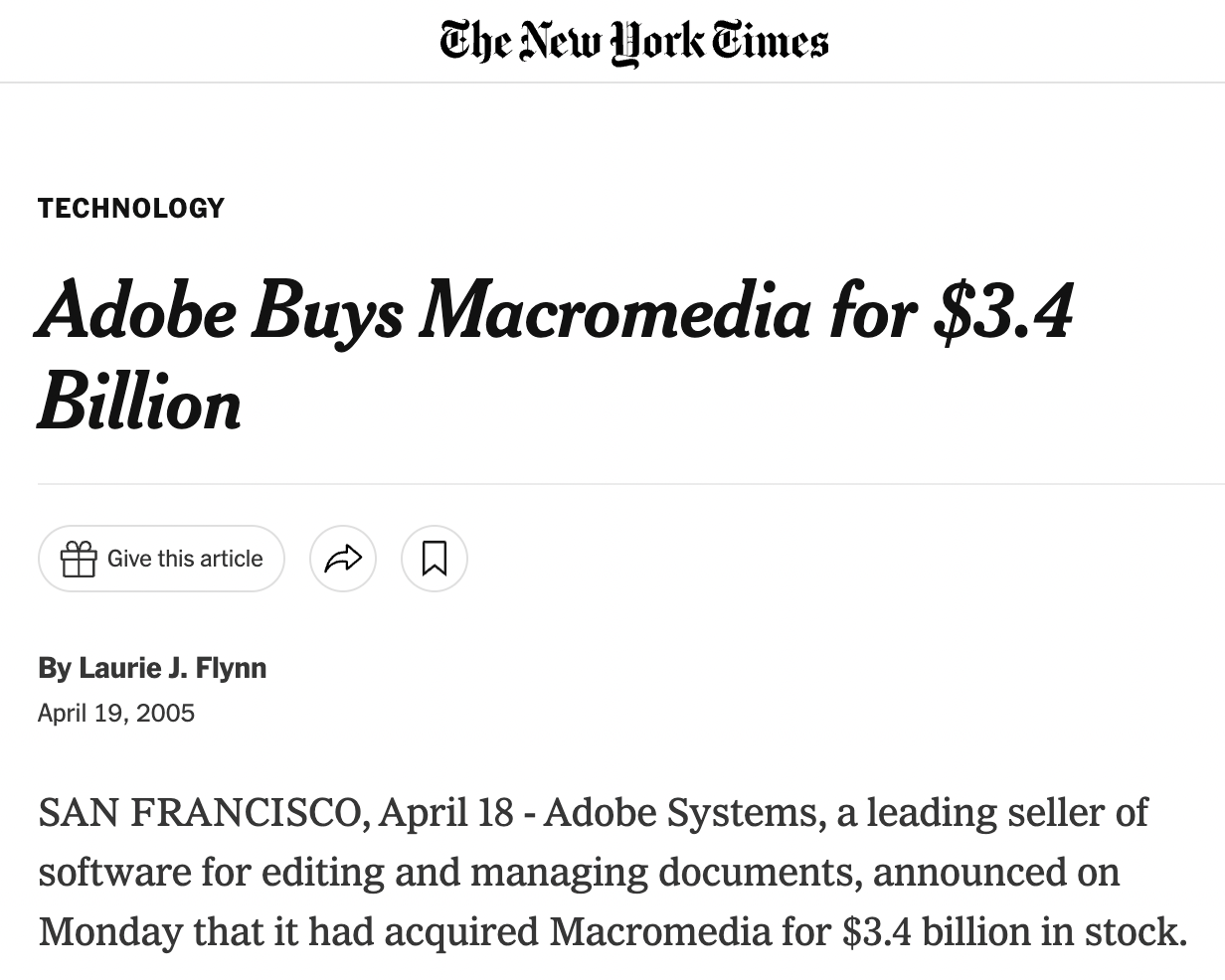 Adobe has also been here before. Adobe acquired Macromedia in 2005, which ultimately became engulfed by Adobe. At the time, Macromedia was known for flash, a software program you had to install to animate Web pages. Steve Jobs was not a fan of flash, and he released "Thoughts on Flash," in 2010, which killed flash overnight.
Innovating on Open Standards
WebGL
WebGL is also based on OpenGL ES, a hugely successful open industry standard for portable graphics that works across every computer operating system. The beginning of WebGL started in 2006 with Vladimir Vukicevic, then Senior Software Engineer at Mozilla, who began experimenting with 3D concepts on the web at a time when Javascript was nowhere near as powerful as it is today. The early supporters of WebGL included AMD, Apple, Microsoft, Mozilla, Google, Intel, NVIDIA, Opera Software, and Qualcomm. This group helped redefine the standards for web graphics, which at that point were a mixture of proprietary technologies like Adobe Flash and Unity's 3D player.
WASM
The main goal of WebAssembly is to enable high-performance applications on web pages, "but it does not make any Web-specific assumptions or provide Web-specific features, so it can be employed in other environments as well." It is an open standard and aims to support any language on any operating system, and in practice all of the most popular languages already have at least some level of support.
What if photoshop existed online? What if all creative tools were online? The goal of the WebGL Working Group was simple: bring 3D graphics to the web, with no security issues for the end user and high performance. WebGL and WASM are used heavily for web apps like Figma, and both standards take a principled and practical approach to achieve native performance on the web. The web is the closest we have to an open universal platform, and we need to embrace it. Figma did precisely this, but most importantly, they understood that open standards were essential to the mission of their business.
Great ideas can give meaning to people's lives. Thanks to tools like Figma, creation can happen much more frequently, which will, in turn, generate more and more ideas. Content is still king, and demand for personalized content and collaboration is growing exponentially. Let us hope Adobe doesn't interfere with that.
---
🔊 Also would like to take the time to mention starting Oct 1st, Thriller will move over to Monthly Sponsorships. We still have some slots left. To schedule a sponsorship or for additional information. Reach out.